The eSign Console
Welcome to the new eSign Console! We listened to your feedback carefully, and then put our best ideas into an enhanced and thoughtful redesign - we think it's not only good looking but smart!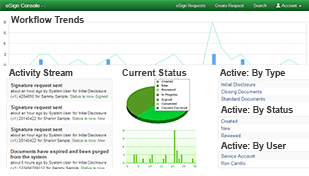 The New Performance Dashboard
The eSign Console's new Dashboard gives you an instant view into recent activity.
A comprehensive set of tools and features helps you find what you need faster, stay organized and keep track of work in progress – all in one place! From here you can keep track of recent signing events, access your active loan files - sorted by both package type and status - and see your current activity over the last 30 days.
The Workflow trends graph displays recent user trends, including the current status of packages created, completed and mailed.
The Activity stream displays the last 15 eSign events. Events are clickable – taking you directly to the eSign Console for more details and options.
Current Status Graphs and Charts display real time status of workflow including documents in progress, worksheets and fulfillment.
Active by Type, Status & User events are categorized, making it easy to find what you need. Listed categories are clickable – taking you directly to the eSign Console for more options.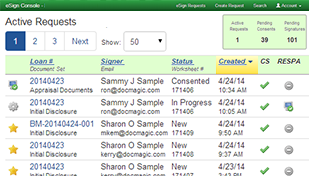 eSign Requests
With a new look and enhancements throughout, the multi-functional list of Active Requests allows you to keep track of eSignatures and current document status. Interactive and easy to sort, the Active Requests list features helpful icon descriptions to indicate which documents are active, signed, have borrower's consent or are in progress. Click anywhere on a loan entry to see more detail.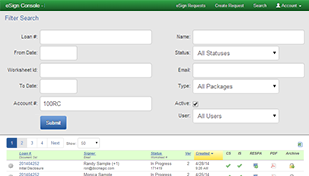 Search
The eSign Search tool has been redesigned with a fresh new look and robust, user-friendly, functionality. We've enhanced the search capabilities and included upgrades to the features you already know and love. The new design offers an improved search filter with targeted options including the ability to search by package type. With all your search parameters in one easy-to-use filter, it's designed to help you work smarter, not harder!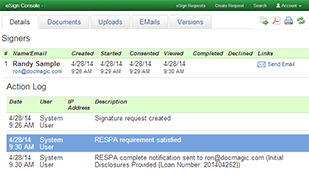 Action Log
Once inside a loan file, the Details Tab displays loan details, signers, and events. You now have multiple options for capturing documents from the borrower along with a place for any notes the borrower includes during the process.
The Documents tab displays a list of documents inside the borrower's package.
The Uploads tab captures any documents uploaded from the borrower.
The Emails tab date & time stamps any documents sent by the borrower.
The Versions tab keeps track of date & time stamped versions of documents, providing a clear audit trial and keeping you in compliance.
Account Options and Features
The eSign Console's optimized Account features allow you to customize a variety of eSign Console options. You can customize the display, elect to view the Dashboard as your landing page, choose your preferred time zone and control the type of email contact you have with borrowers. Customize emails with your unique branding and logo design and view handy pop-up messages with borrower or loan activity in real-time!
Not an eSign Customer? Click here to schedule a live product demo.