SmartCLOSE™ was designed to bring lenders and settlement service providers together inside a secure environment to share, edit, validate, audit, track, and collaborate on documents, data, and fees.
What's Inside:
Synchronized collaborative workflow
Real-time chat and instant messaging
Continuous compliance and TRID tolerance monitoring
Automated event and audit logging
Bi-directional integration with leading Loan Origination Systems
Integrated eDelivery of borrower disclosures
Certified MISMO 3.3 compliant XML data and document exchange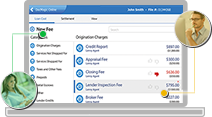 See the Release Notes
Generate and Deliver GSE-Certified UCD Files from inside SmartCLOSE!
At DocMagic, our goal is to make it easy for you to prepare for the Uniform Closing Dataset (UCD) deadline on September 25th, 2017. Well in advance of implementation requirements, our GSE-Certified solution is ready NOW - and satisfies every phase of the complete UCD mandate!
UCD file generation from any DocMagic application
UCD Web services Application Programming Interface (API)
Generate GSE-Validated UCD files from your Closing Disclosure
UCD files include over 200+ unique XML data points
PDF representation of the Closing Disclosure
Automated process for the secure and efficient delivery of compliant data XML files
Automatically deliver UCD files directly to the GSE of your choice
DocMagic can also deliver UCD files generated by other systems directly to your chosen GSE

Collaborate on TRID Compliant Documents... and more!




The Industry LOVES SmartCLOSE!

"Once I saw the collaborative environment, I was immediately sold!"
- Karen Farmer
Settlement Agent
C.H. McLaughlin Title Co., LLC

"SmartCLOSE makes the whole collaborative process simple for our team."
- Melissa Boxer
Lending Closing Coordinator
Gorham Savings Bank

"This system is very easy for us and our settlement partners to utilize."
- Jim Paolino
Chief Executive Officer
LodeStar Software Solutions