What are the requirements for passwords?
Need to be greater than six characters in length
Must contain both letters and numbers
May contain the following special characters: @, #, $, !, *
colin
Thu, 01/31/2013 - 09:56
How secure are internet communications with DocMagic's servers?
DocMagic has implemented the most current industry security measures to protect customer data. For a detailed description of those security measures, as well as a description of DocMagic's handling for nonpublic personal information, click here.
colin
Fri, 08/21/2009 - 13:42
Can I have more than one DocMagic Online user?
Yes. Log into www.docmagic.com with the username and password that you use to log into DocMagic Online. Select Web Services -> My Account from the menu at the top of the website. Using Account Administration, you can add, remove or update user information.
NOTE: Only users that are designated administrators will be able to access this page.
colin
Fri, 08/21/2009 - 13:41
What else can I do via the Account Administration web page?
Account Administration gives account administrators the ability to add/remove users, modify/update current user profiles, modify/update passwords, add/remove user services and add/remove plans. If an account subscribes to LoanMagic, administrators may also upload a logo to be displayed in all LoanMagic reports.
colin
Fri, 08/21/2009 - 13:40
Can I email documents with DocMagic Online?
Yes. When processing, check the E-mail to another location check box and fill in the email address to where you would like the documents sent. You will see this option in the Additional Delivery Options area of the processing window.
colin
Fri, 08/21/2009 - 13:40
When starting DocMagic Online from my desktop, I log in and nothing happens. Why?
If your system blocks pop-up browser windows, you will need to allow pop-ups so that DocMagic OnLine can be started. Disable your pop-up blocker, or enable pop-up windows for the website www.docmagic.com.
If you are a Windows XP SP2 user, be aware that the default action of the built-in pop-up blocker will prevent DocMagic OnLine from launching. You may notice an icon, a red circle with red diagonal line, in the bottom of your Internet Explorer windows that looks like this:

This indicates a page has been blocked. You can unblock the entire DocMagic site by right-clicking the icon. When you do, a menu appears like this: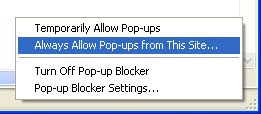 Choose "Always Allow Pop-ups from This Site...".
colin
Fri, 08/21/2009 - 13:37
Where can I view APR, Section 32 and Impound details?
Click the Audit button. When the Server/Audit Messages window displays, across the top menu buttons are provided to display each of these items details. These are also available in the Tools menu after the websheet has been audited. Additionally, in the Section 32 details display, a link is provided to display state specific details if applicable.
colin
Fri, 08/21/2009 - 13:36
What is the easiest way to view a document for a websheet that I've previously processed?
Provided no changes have been made to the websheet, a View Docs button is provided at the top of the websheet display that when clicked will download the documents in the previously processed format for easy viewing.
colin
Fri, 08/21/2009 - 13:35
I need to access the MERS field, but the field is disabled. What can I do?
You need to have the plan code you are using MERS enabled. Contact DSI's Customer Service Department at (800) 649-1362 to have the plan MERS enabled.
colin
Fri, 08/21/2009 - 13:34
I need to view the Proof sheet for my websheet, but the button is disabled. What should I do?
This means the websheet has not been audited or it has been changed since it was last audited. The Proof sheet button will become available if you audit the websheet.
colin
Fri, 08/21/2009 - 13:34
Subscribe to
Subscribe to