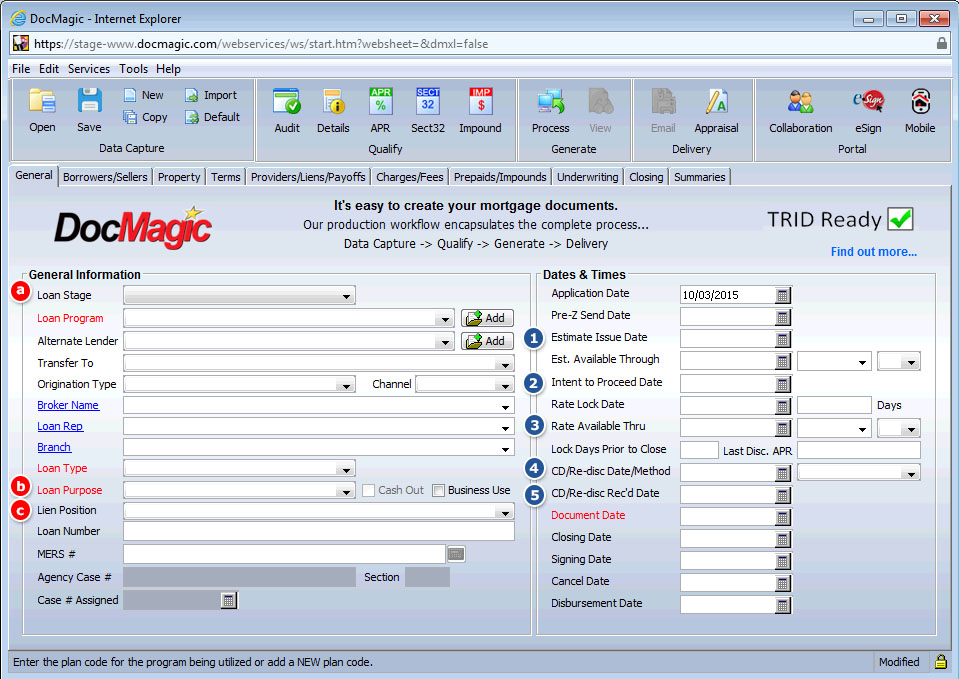 Loan Stage: The dropdown for selection of the Loan Stage has been moved to the top left side of the General Information section.
Loan Purpose: Added Home Equity Loans.
Lien position: Users can now chose 1st/2nd/3rd/4th.

Dates & Times: This section has been substantially revised:
Estimate Issue Date: Formerly the GFE Date, this is the date the Loan Estimate is issued.
Intent to Proceed Date: The date the lender received the applicant's intent to proceed with the transaction.
Rate Available Thru: The time field has been updated to include options for indicating the required added time zone through which the rate is available to the applicant.
CD/Re-disc Date/Method: This field has been updated to be used for issuance of either the Closing Disclosure or a revised TIL, as a result of a TRID/MDIA-required disclosure or redisclosure three business days prior to consummation of the transaction.
CD/Re-disc Rec'd Date: Similar to the CD/Re-disc Date/Method this field allows the lender to input the date the applicant actually received the required disclosure or redisclosure to begin the required waiting period.
IMPORTANT:
Commitment Date/Expires: These dates have been removed from the dates screen.